Microsoft Office Updates: Issue with displaying dialogs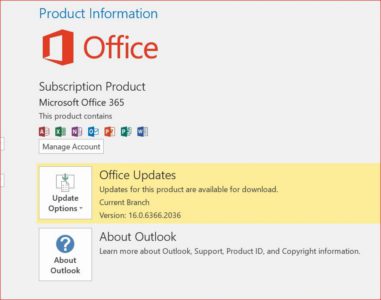 Microsoft regularly provides its software with updates, and the Office suite is no exception. These updates are usually installed automatically. However, the update that was released on 11 June has a negative impact on the appearance of the dialogs in dStyle and LegalWord. Due to this update certain fields are displayed incorrectly or not displayed at all and are therefore (partially) unusable.
We have established that when you receive Office updates via the 'fast circle', this issue is resolved. This suggests that this problem will also be resolved with the next monthly update. However, we do not yet have certainty about this. For that reason we would like to list the options to solve this (possibly temporary) problem.
Option 1: Roll back the Microsoft Office updates
Please follow these steps to revert the updates and have dStyle or LegalWord run smoothly again:
Download and run the self-extracting executable file from the following Download Center link. This file contains the Office Deployment Tool executable (Setup.exe) and a sample configuration file (Configuration.xml):

Office Deployment Tool


Start Notepad and copy the following XML. Then, save the file as Config.xml in the same file location as the Setup.exe file from step 2.

<Configuration>
<Updates Enabled="TRUE" TargetVersion="16.0.11629.20214" />
</Configuration>




Open an elevated Command Prompt window. To do this, click Start, type cmd in the Start Search box, right-click cmd.exe, and then click Run as administrator. Switch to the file location for the Setup.exe and Config.xml files.


Run the following command:

setup.exe /configure config.xml




Start an Office application (such as Excel), and then select File > Account.


In the Product Information section, select Update Options > Update Now.
For more information, see the Delay receiving feature updates from Semi-Annual Channel for Office 365 ProPlus.
For more information about rolling back updates, please refer to the Microsoft page:
How to revert to an earlier version of Office 2016 Click-to-Run
Option 2: Adjust formatting dialog in dStyle settings
In dStyle and LegalWord a formatting dialog is available that opens up next to the document. This dialog let's you apply formatting to selected text easily. There are two ways this window can be displayed and switching to the second option helps to solve (some) of the known dialog displaying issues. This can be adjusted via a setting in the Documentaal configuration folder. Please follow these steps:
Navigate to the Shared folder and open the file 'dStyle.settings.xml'
Search (ctrl+f) for 'UseWpfStylesPane' and then set the value from 'False' to 'True'
Restart Word and see if the problem has been corrected.
In many cases this switch helps and will have dStyle or LegalWord run smoothly again. However, this depends on, among other things, the Office user interface language and the version of dStyle / LegalWord (this solution works for the English UI language in combination with version 7.0.18.30.1 and up, and for all UI languages with version 7.0.18.41.2 and up).