Het kan voorkomen dat het dStyle/LegalWord ribbon(lint) niet (meer) zichtbaar is in Word of Outlook. Dan kan het zijn dat deze is uitgeschakeld. Dit gebeurt in sommige gevallen wanneer Word onjuist is afgesloten of wanneer deze onverhoopt is gecrashed.
In de meeste gevallen kan de dStyle/LegalWord invoegtoepassing handmatig weer worden ingeschakeld in de opties van Word of Outlook. Klik hier voor meer informatie.
Als het dStyle/LegalWord lint (ribbon) niet verschijnt na bovenstaande handeling dan kan er naar het loadbehavior van de invoegtoepassing gekeken worden om daar een aanpassing te doen. Het loadbehavior is terug te vinden in de Register-editor op de volgende locaties:
Voor Word:
Computer\HKEY_CURRENT_USER\SOFTWARE\Microsoft\Office\Word\Addins\dStyle.Word
Voor Outlook: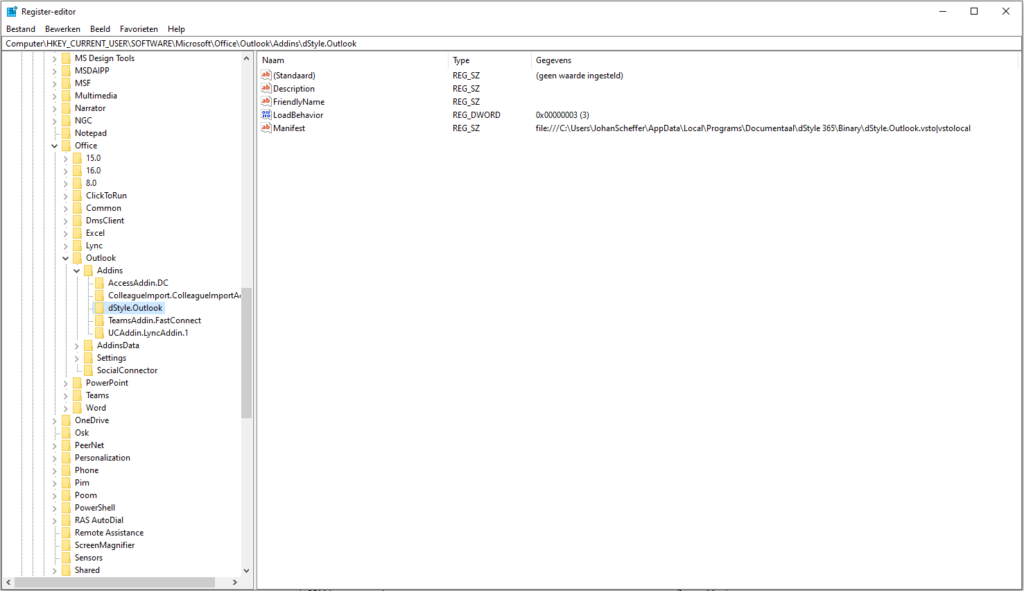 Computer\HKEY_CURRENT_USER\SOFTWARE\Microsoft\Office\Outlook\Addins\dStyle.Outlook
Wanneer de invoegtoepassing is uitgeschakeld dan staat het loadbehavior op 2.
Wijzig de regel met het loadbehavior door te dubbelklikken op LoadBehavior en verander de waarde van 2 naar 3.
Herstart Word of Outlook om de wijziging door te voeren.