In the house style ribbon, click the New button and choose Empty document (or Blank) to open an empty document.
An empty document is a document that contains almost nothing. Therefore, when opened, only a leading dialog appears without variable data. However, this document does contain the correct standard layout. For example, font type, font size and line spacing.
You can use this document to make models or to start a document. You can then be sure that you include all the corporate identity features of your company.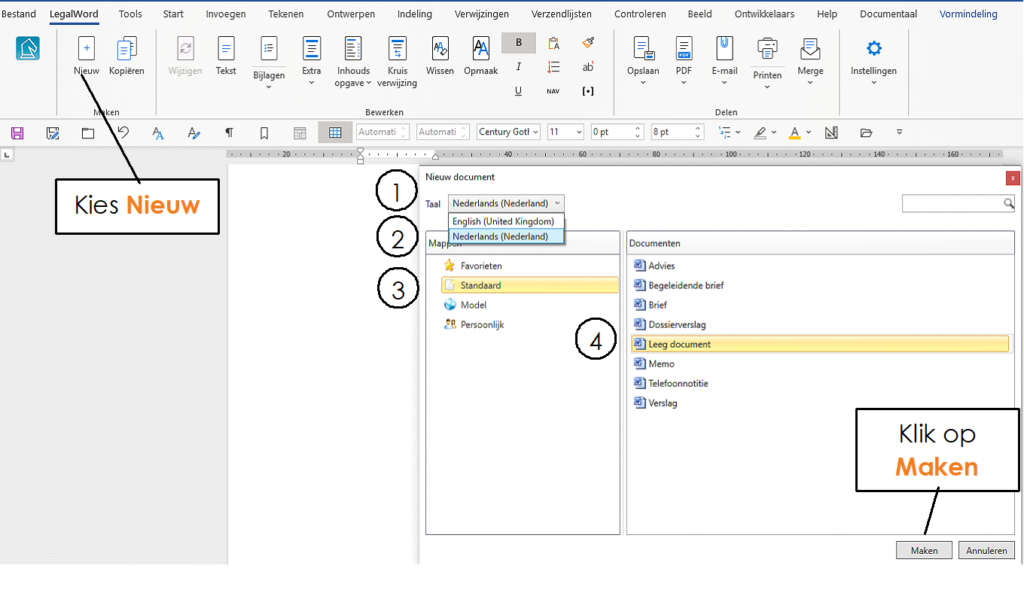 In LegalWord, select New. The window with the models and templates appears.
① Click on the Language for the language in which the template will be formatted.
② Choose Dutch. The grammar- and spell checker will be set to Dutch. As well as the number notes (1,000.00 vs. 1,000.10).
Click on Default
④ and in the right part of the window, select the Empty Document Template as the document type to be used.
Click on the Create button . The Empty Document window appears.
① Click on the magnifying glass for the project or case selection
Search in DMSForLegal:

Enter the case/project name or number
Select the correct case
③ Click on OK to continue
The case/project name has been selected. And a document number has been generated. You do not need to modify this any further
Choose the type of confidentiality of the document
③ Choose the author of the document. This can be you or you create the document "on behalf of" another person
④ Select OK to continue
dStyle/LegalWord will prepare the empty document for you!
Tip: do not use the "Normal.Dot" document from Microsoft. This is a demo document from Microsoft with an example corporate identity. Adjustments to this document will be overwritten by Microsoft during updates and upgrades. Therefore always use your company Blank as your starting point. Also because it contains your styles.